The Status Bar provides details about your connection status and the data transfer speed (ping speed measured in milliseconds).
A green Status Bar indicates that you've successfully logged in and are connected. Your exact username and the expiration date of your subscription will be stated in green.

A yellow Status Bar indicates a network issue.
In case you are on a controlled network (Firewall, Hotspot, Antivirus software, hotel), go to the Toolbar, open the Tools Tab, select Options, then Connection, and change the connection type to New HTTPS mode.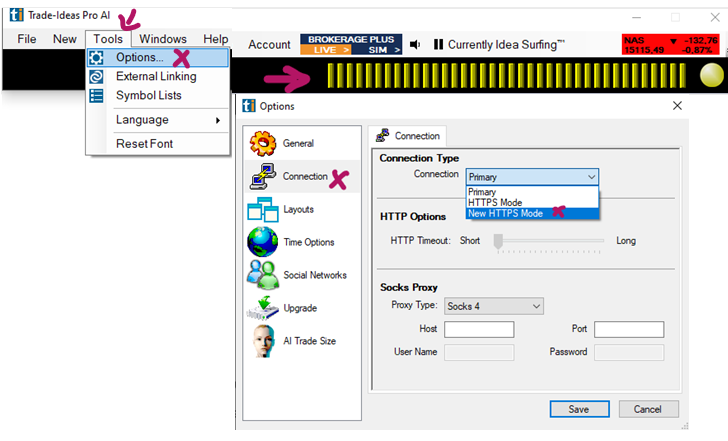 A red Status Bar indicates a login issue (e.g. wrong username/password, being logged into the software on another device).
Our login form is case-sensitive. Username and password need to be entered in their exact case. Some devices capitalize the first letter automatically, which will lead to a login error indicated by the red Status bar.
You can install the program on as many devices as you like, but you can only run one instance at a time. If you're logged in on another device, the Accounts Tab will display Another user connected as username XYZ. In this case, select Reset Connection from the dropdown. This action will log you out of any other instances and connect the current device.
To reset your password, follow this link or go to the Toolbar, open the Accounts Tab, and select Forgot My Password. Alternatively, contact our friendly support team at info@trade-ideas.com to request a password reset.

If your Status Bar is red and indicates an incorrect username or password, uncheck the Save Username and Password box and type your login credentials by hand since your browser might have saved an incorrectly entered username or password for the auto-login.