Post-market Lows
Table of Contents
Understanding the Post-market Lows Alert
Post-market Lows show the lowest prices since the market closed. This only includes the post-market prints, which are not part of the normal lows.
You can filter this alert the same way as other lows, with one difference. We start counting the number of days from today's close. So a value of 1 day means that the low was lower than today's low, but not lower than the previous day's low. If that same print had happened before the market closed, it would have generated an alert with a value of 0 days.
Default Settings
By default, this alert appears when a stock's price is lower than its previous post-market low during this time.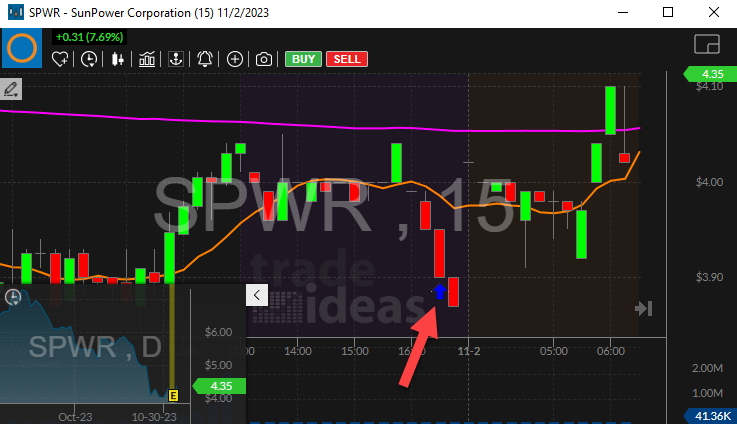 Custom Settings
For 'Post-market Lows' alerts, you have the option to use an alert specific filter. This filter is located immediately to the right of the corresponding alert and is always optional. You can decide to leave it blank if you want to receive more alerts, or you can fill it in to restrict the number of alerts you receive.
This filter allows you to specify the quality of the alert. When you set a higher number for this filter, you are telling the alerts server to display only alerts that meet a higher quality standard, resulting in fewer alerts being shown.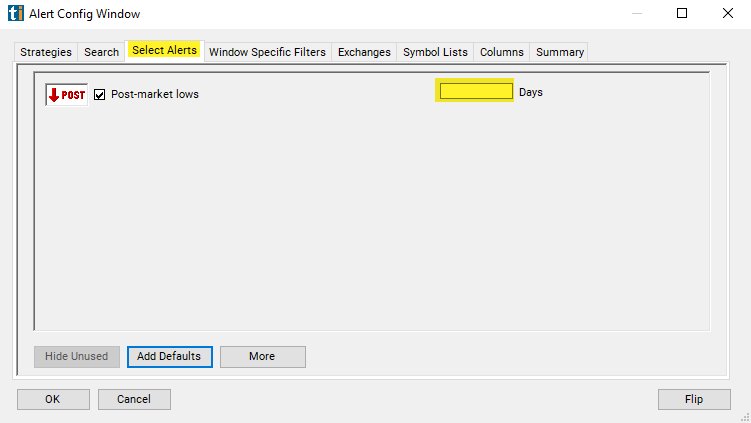 When setting an alert for 'Post-market Lows,' you can specify a minimum number of days. Here's what different values mean:
0: Any new post-market low triggers an alert.
1: A low must be lower than today's low to trigger an alert.
7: Only new post-market lows for the week will be shown.
365: Only 52-week post-market lows will be shown.
You can use any number between 0 and 366. The default value is 0.
Description Column
The description column of your scan will provide more details about the new Post-market Low.

Quality Column
This value represents the number of days it has been since the stock has been lower than the recent alert notification.

Alert Info for Post-market Lows [LPOST]
Related Codes